-
Top 10 Amigurumi Keychains
Here is our Top 10 Amigurumi Key chain list that we have compiled that you can use for your next crochet gift ideas.
Who can resist this very cute Amigurumi Crochet Keychains?
Very nice to use for Souvenirs,
Couple Keychains, and more...
This is my Top 10 Crochet Keychain list,
Surely kids and young at hearts will love.
1. Octopus Frenzy
I have been making a frenzy of octopuses…..octopuses? Is that the plural of octopus? I always call them octopi.
This is a fun pattern that the designer worked up, and can be done with virtually any yarn. She     always use 1 hook size down from the recommended for each kind of yarn, just to make sure the stitches are nice and tight and won't show any of the stuffing. She has a lot of different sizes of safety eyes that she purchased from many different places, so she decides on the eyes as the designer working on the pattern.
You may find the free crochet pattern in this LINK.
2.       Bear Keychain Crochet
This is a simple bear amigurumi for the beginner, they are so easy to create and lovely for your someone special…
 The designer made this pattern to give to her loved ones....
this amigurumi bear key chain is best for gifting for valentine's day and any occasions.
 You may find the free crochet pattern in this LINK.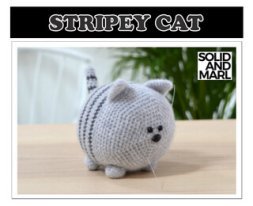 3.       Stripey Cat Pattern Amigurumi
To make this lovely cat crochet pattern you will need some fine fibre lambs wool. The Designer make three different weights of our yarn, a 2 ply called Rare, a 4 ply called Halo and an Aran weight called Bold. 
You can pick any weight you want to make this cat, the instructions remain the same.  Make sure you select the correct crochet hook size for the weight of yarn you are using.  Use a 2mm hook with Rare, a 3mm hook with Halo and a 5mm hook with Bold.
 You may find the free crochet pattern in this LINK.
4.       Puppy Keychain / Zipper Pull
This cute crocheted puppy keychains is made from red heart super saver yarn.
The designer used 2 colors, the cafe latte and warm brown yarn and 4.5 mm hook.
This amigurumi is best used for keychain or as a zipper pull.
This little project can be done in under an hour (or even less if you're a fast crocheter) A little extra detail for a child's backpack or a keychain for your teen, and why not, even yourself…!
 You may find the free crochet pattern in this LINK.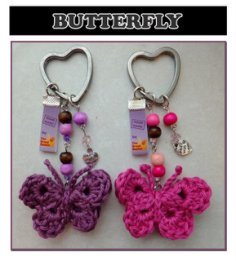 5.       Butterfly Amigurumi Keychains
The designer gets a lot of requests for this butterfly pattern which she used to make for her keyrings. Originally, this is not her own pattern she said. She found it on the internet for free, on a website which is offline now. Unfortunately she can't find out who was the designer of the original pattern. Therefore she would like to share the pattern with you.
 You may find the free crochet pattern in this LINK.
6.       Pocket fox
Introducing the Pocket Fox! These cute little foxes are a close cousin of the fox we know and love; but much smaller! Here are some facts that you may not know about Pocket Foxes:
Their natural habitats are pockets, of course! Any pocket at all will do; big ones, small ones, rectangular, square, pouch pockets, welt pockets, side pockets, you name a pocket, a Pocket Fox will be comfortable there; their diet consists of the naturally occurring substances of pockets: lint, buttons, coins, pen caps, the occasional paper clip, and the like; due to evolution, Pocket Foxes do not have tails so as to ensure maximum pocket-living comfort; pocket Foxes are shy but make great company wherever you go.
 You may find the free crochet pattern in this LINK.
7.       Egg shape cat
Super easy and fun egg-shaped cat. It has no limbs, but it has a colorful striped body and a long tail. You can turn it into a rattle by inserting a metal or plastic rattle insert. Wonderful toy for babies and real cats!
Actual size is 10 cm / 4 inches.
You may find the free crochet pattern in this LINK.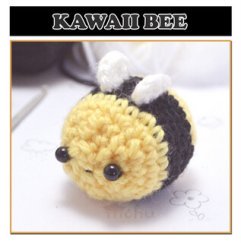 8.       Kawaii bee amigurumi
This little amigurumi bee is so cute and very simple, it is very easy to make and this little amigurumi is made using medium (worsted) weight yarn and a 3.5mm (E) crochet hook. The designer uses 2 stitches only, SC (Single Crochet) and Sctog (Single crochet together)
it is best for keychain, you can put your little bee on your desk or in your pocket, throw him around, or give him to a friend.
You may find the free crochet pattern in this LINK.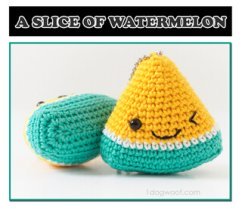 9.       A slice of Water Melon Amigurumi Keychain
The Designer said.. she made this pattern and finally published this Watermelon Amigurumi design after 3 months.
It's a simple project and makes for a great teacher's gift, whether you give it at the end of a school year or at the beginning of the year, or for the holidays as a stocking stuffer. It's cute, it's small, and you can whip up a batch of these in an evening for all the people on your list!
You may find the free crochet pattern in this LINK.
10.       Keychain flip flops Slippers
This flip flops Slippers are so cute, the designer made her pattern using different stitches, single
Double Crochet, Half Double Crochet. And she uses two contrasting colors of cotton yarns.
 You may find the free crochet pattern in this LINK.


You might also like....
If you would like to support my work as a crochet designer, buy me a cup of coffee.
Girlie's Crochet . Com  This free newsletter is delivered monthly, straight to your INBOX.
It covers all new pages since the last issues. Sign up here....
-
-
Girlie's Crochet  >  Favorite Free Crochet Patterns  >  Top 10 Amigurumi Keychains