-
About Me


I'm Girlie D de los Reyes from the Philippines, a working mom who loves to crochet. I crochet everywhere I go. In the bus stops, while waiting for the bus, at the hospital lobby while waiting for my OB-Gyne doctor, or even in the car while travelling. I love to crochet so much that sometimes I lose sense of time.
---
How I learned Crochet?
It all started in my 5th grade where they taught me the basic crochet stitches and I took a liking to crochet. I also learned the crochet abbreviations and I discovered that it all seemed too easy to me as if it was learning something I already knew.

Having spent a lot of time with a grandmother who enjoyed crocheting was a big help because I would sit and stare at her fingers as she crocheted and this fascinated me so much. I was always amazed by the finished projects.
The passion to crochet was ignited by an event in high school when I was asked by a teacher to join the school competition for crochet and I took home the gold. Having been encouraged by my teacher,  I started to learn more and more about crochet and continued to join more competitions which garnered me several awards.
This fueled the passion and it motivated me to learn even more.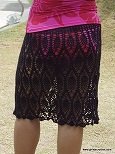 Eventually, as the years went by, I had started to collect books and more things about crochet and yarns and continued to work on projects. I started to create my own designs and patterns.  
I needed an outlet for sharing my creations. I had no desire to sell my products/projects. I was giving them away to my family, my in laws, and my friends. It gave so much joy and happiness to see them wearing my crochet projects, using my crochet creations and appreciating them.
While I was online one day, searching for patterns, my husband said to me, "You should start a blog and share everything you know about crochet."
The light came on and I had discovered a way to share everything I had saved up and created without having to make them all over again. I started a blog while I explored the possibilities of building my own website.
I had no IT background and did not know where or how to begin. I was computer literate, but that was it.
Then, I discovered Solo Built It, and here I am and the rest, as they say,  is history.
---
My Crochet Inspirations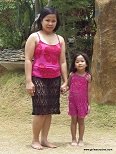 My grandmother, (my mother's godmother in her wedding), had a lot of crochet projects. In their house, there was a set of table cloth, center table, corner table and coffee table crochet projects. I loved looking at her creations. I was so fond of looking at her vintage pamphlet full of photos with pattern in it. I started to look up to her and see myself crocheting . I wanted to crochet all the way to my golden years. In the afternoons, she would crochet in the library, where I would spend hours just to watch her, occasionally, holding the thread while she's crocheting. I just sat beside her and watched her while she would crochet the afternoon away.
My family and in-laws, my mother, my sisters and my in-laws were the ones who challenged me. My mother taught me how to sew a blouse. She is a pattern maker and a QC Inspector in an export garment factory. I used some of her suggestion when I am crocheting a dress and blouse. My sisters and my in-laws would think up of all the different projects.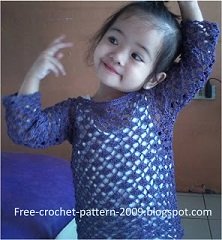 My husband, who supported my crochet hobby, financially. Oh, and the one and only person who listened to me while I would think up crazy projects and drive him crazy about one pattern. Sometimes I keep him up at night while creating this website. He is my editor too.
Share your crochet experiences.
My daughter, who loves to wear all of my crocheted dresses,.  A very proud model who will wear my entire collection even the unfinished ones. Sometimes I have to run after her after 10 shots,  but she will always be my number one model.
---
My Dreams
My daughter is my little ballerina, but I can't watch her ballet class because I have to go to work. My husband told me that she's improving in ballet class every session. How do I know? I'm working. How I pray that someday I will stay at home and watch over her at every stage in her life.
Everyday when she wakes up, she will embrace me and go to my lap and say      
 "Mommy I want you to stay today and give me bath" or "mommy let daddy work, not you". I say to her,
 "you know, I have my crocheted items, If I earn a lot from it I will stay at home and take care of you, but for now, mommy has to go work to help your daddy so we can support your studies and your ballet school. "
She answers back "I will not go to school now so you don't have to go to work. I will just go to my ballet school"

I love crocheting, and one of my dreams is to take care of her and stay at home. But due to continuous rising cost of living, it is difficult for a one income family to cope, much less survive.
Some have suggested to sell my crocheted items and earn from it, but I think that's not enough. And still if I do sell my crocheted items, I must be like a machine to finish 5 crocheted boleros a day. I love crocheting but I don't want to sell my crochet items for now. I just want to help others on how to crochet and earn from it.
---
My Discovery
I discovered how I can earn through a website, somehow I stumbled across SBI.
SBI stands for Solo Build It! and helps you to turn any hobby, passion or skill into a viable online business. You probably don't even realize that almost any topic can make money with a website.
My passion is crocheting, but you can do what I'm doing with any passion, hobby, skill, area of expertise... whatever it is that makes you happy. And you can do it in your spare time!
You need no programming skills or web design knowledge, no business and no product to sell. Just bring your brain and motivation. Solo Built It has all the tools you need, and they take you by the hand and teach you step by step how to use everything.
They help you find the perfect topic for your site, to build it, to get traffic to it, and then they even teach you how to make money with it, no matter what it is about!
Have a look at the Video Tour to get an idea of how it works.
And have a look at this: hundreds of successful SBI websites, built by normal people like you and me. All these sites are in the top 1% of the most successful sites on the web. 

You can also see that there is a staggering variety of topics that people have turned into profitable websites with SBI.
Yes, in the beginning this is a lot of work. But keep in mind that doing something you love never feels like work. And you can do it in your spare time. YOU set the pace.
The main thing is, it's totally risk free. SBI has a full money back guarantee. They're happy for you to try it out to see how you like it.
There are countless other ways to make money with a website: create your own egoods to sell, sell other people's products for a commission, get paid for leads and referrals and more. SBI shows you how to do all that.

How do I make money? At the moment mostly with advertising. You probably saw the links throughout the site that say "Ads by Goooogle". Every time someone is interested and clicks on one I make money.
You can get some more ideas from what other SBIers are doing. Just have a look at the case studies.
so what are you waiting for?
"You only have one life.
Make the most of it".
Try Solo Built It - because if I can do this, you can!
-
-
Girlie's Crochet  >  About Me