-
Chakra Barefoot Sandal
This is a free crochet pattern for Chakra Barefoot Sandal.

This sandal is fun, quick and easy to make, perfect touch to any dress-up for it can be transformed into bracelet, belt, necklace, headpiece...
Finished size:  37" long
Chakra color beads meaning: 
white - awareness
red - energy
yellow - intellect
green - prosperity
blue - tranquility
Skill Level:
Beginner
Materials Needed:
Hook: 
Thread: Monaco Mercerized Cotton, Black, 
Others: sewing needle, scissor, stitch marker and chakra color beads.
Terms Used:
CH - chain,  DC - double crochet
Gauge:
Gauge for these projects is not important.
Chakra Barefoot Sandal Instructions:
Leave 2 1/2" long before the starting CH...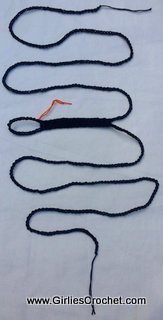 with black in double strands and steel hook #1,  CH  200,  insert  stitch marker,  CH  20,  1 DC  in  21st CH  from hook,  and  in  each  19 CH,  CH  180.  End,  leaving  2 1/2"  thread,  fasten off. 
Sew  beads on  top  of  DC,  and  insert  beads,  tie  knot  in  each end of  sandal,  see  pictures.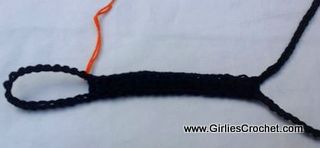 Other use of  Chakra Barefoot Sandal
About the Designer:
May I introduce one of our contributing designers from Crochet Lover in the Philippines. Read about her below.
You might want to join our roster and if so, read on and join us. It's easy and it will be fun!
Owner at Judy D. Cimafrance Designs.
Hello, I'm Judy aka Jurich. I've been crocheting for 35 yrs now. I have produced and received custom made orders from families, friends and walk-ins and mentored children and adult beginner especially just at home moms in groups and one on one. Currently crocheting alternative yarns like plastic shopping bags (plarn) and other trash materials to protect the environment.
If you would like to support my work as a crochet designer, buy me a cup of coffee.
Stay up to date on Girlies' Crochet . com for free crochet pattern and news related to crochet.
You might also like....
---
-
-
Girlie's Crochet  >  Free Crochet Pattern  >  Chakra Barefoot Sandal